on Iceland + intentions for the year ahead
• 10 min read
reflections on my Christmas trip and thinking about the year ahead
Well, first off…
As the year - and the decade - draws to a close, I'd like to welcome the several new subscribers who have joined INF club in the last couple of weeks. There are now more than 100 of us and, though numbers definitely aren't the most important thing, it's a lovely landmark to hit.
So thank you, for being a part of this modest community. 👥
As we move into 2020, I have more personal pieces planned, in addition to interviews with fellow INFPs and INFJs. I'm also wanting to start conversation threads here on Substack, giving us the chance to share and get to know one another better (keep an eye for the first one, coming soon).
As you joined before the year's end, you have been gifted an upgrade to premium, for life. So you'll be able to access and take part in everything I've mentioned, and then some. Oh, and how could I forget, there's the INF Wall, too...
If you have any questions, or would just like to say 'hello', simply hit reply. I'd love to hear from you.
Otherwise, I hope you enjoy the last piece of 2019, where I share my experiences this Christmas in Iceland, and the intentions I have for the year ahead.

(Context: rather than goals/resolutions, I like to focus more on my feelings as I plan for the year ahead. Here are the ones I set for myself last year).
---
On Iceland, and intentions for the year ahead…
On Christmas Eve, I flew with my family to Iceland. I remember as a kid the anticipation of Christmas used to last the whole month for me. December came, advent calendar door #1 would be opened, and I'd be very excited.
As an adult, it feels like the anticipation isn't so much there anymore; I only really get into Christmas when it actually comes around, but I still love the feeling hanging in the air at this time of year.
Such trips with my family are also less commonplace, now that I'm 30 and my brother is 25 (how did that happen so fast?). Still, I was curious to see how it would transpire, as these extended periods of time together can, for an introvert and an INFP at that, be somewhat challenging. (Aka: periods of solitude are essential).


Iceland is really quite magical. It sits atop the mid-Atlantic ridge, running deep beneath the ocean floor and where two tectonic plates are drifting apart, forming new earth and new crust. They call Iceland the land of fire and ice (though, sadly, they think the ice will be gone 150-200 years from now), and that it is. The landmass is full of so many volcanoes, that they count these by 'clusters'. Each cluster is comprised of many volcanoes. One such volcano is due to erupt anytime, sitting beneath the ice and due to cause a flood somewhere or other (they're not entirely sure as this activity is underground).
Incredibly, almost all of Iceland's energy is renewable (geothermal and hydropower), and you'll see recycling everywhere you go, whether to a tourist attraction or outside your hotel room.
They have 13 Santa Claus's, a Christmas cat, and trolls in the mountains. The Icelandic Sagas provide historical narratives based on events that took place in the 9th, 10th and 11th centuries, giving the reader an early account of Iceland's history and the families that settle there.

👉 Want to know even more about Iceland? Wikipedia is your friend.
Here are some of the things we did there, interspersed with some of my reflections and learnings from this trip, which I've then more succinctly articulated into 2020 intentions at the end of this piece.

1. Iceland is stunning. I really need to spend more time in nature.
They call it the land of fire and ice. We saw cloudy skies (a lot), snow and rain... interchangeably, as the notoriously unpredictable weather promised to serve up. We saw mountains and volcanoes, waterfalls and lakes, geysirs and glaciers. It was jaw-dropping.
For some reason, spending time in nature, though it's in all the recommendations for good wellbeing - and I totally feel the benefits myself - hasn't been something I've prioritised as yet.
Yesterday, my first day back in the UK after our trip, I woke up and walked through my local park. It's on my doorstep, so I've got no excuses, and even just a half-hour outside amongst the grass and the trees makes such a felt difference.

Btw, we were in Iceland just after the Winter solstice… sunrise was around 11.30am and sunset around 3.30pm, which was interesting! (In the summer, though, they got lots of daylight - including 24hours of it between June and July).
2020 intention: more time outside, and in nature.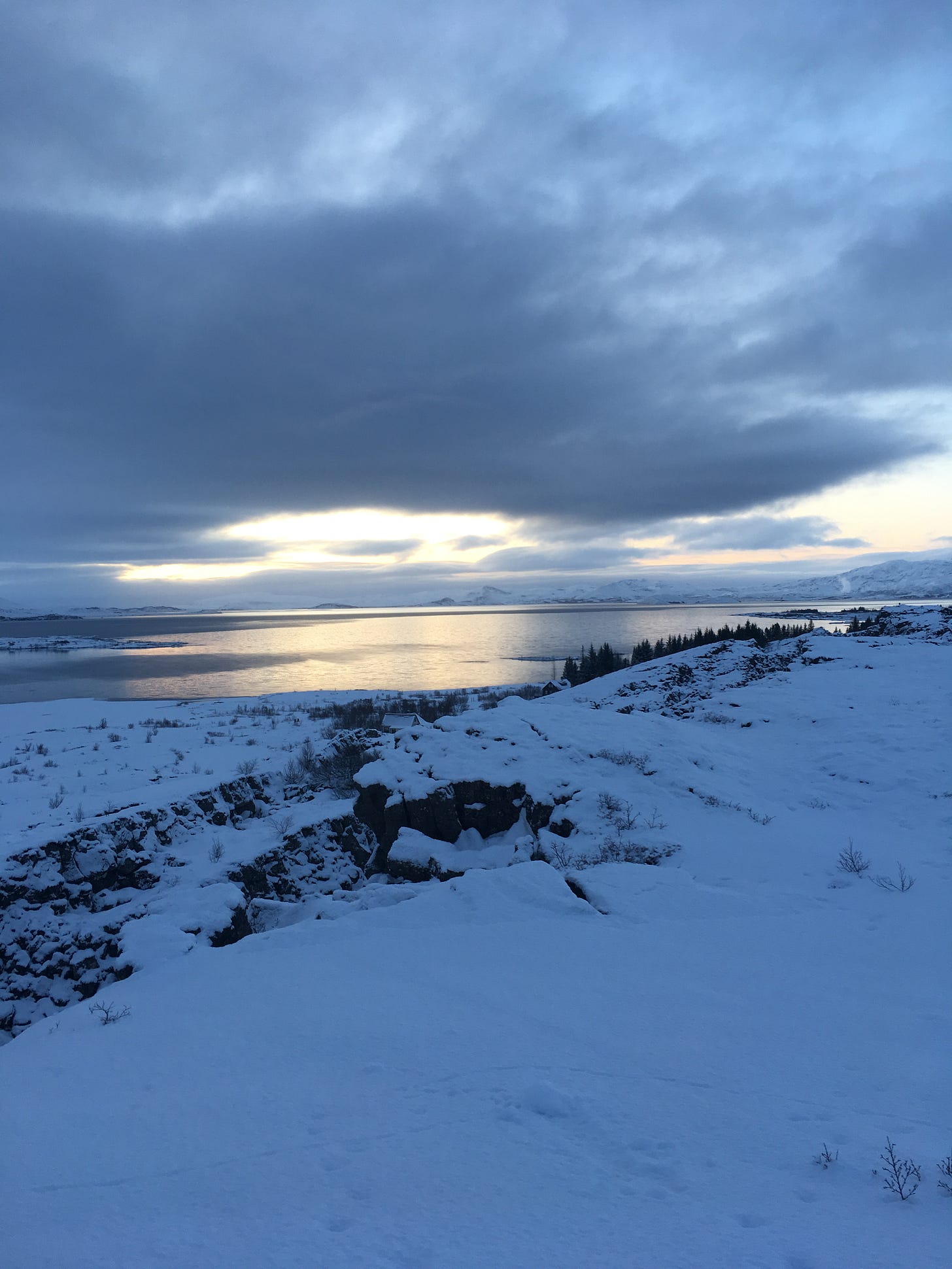 2. My mobile phone.
I initially planned on a complete digital detox whilst in Iceland. That didn't quite happen, but I was careful to spend minimal time on my phone.
I stumbled across this article on Introvert, Dear which really hit home. And I ordered x2 Cal Newport books (the most recent ones). I would really like to be more intentional about the time I spend on my laptop and mobile phone; as someone who's been blogging and writing since 2015, I've gotten used to spending a lot of time on my laptop.
Less technology, more nature is definitely what I want to happen in 2020. Cal Newport's 30-day challenge might be where I start.
2020 intention: less time on digital devices, and more control (i.e. conscious/intentional use).

3. INFP exploration
I had a wobble or two this trip, as seems to happen often when I'm away. It's like clarity emerges and true feelings rise to the surface. Yes, I am an idealist but I hold the view that a wobble happens because something, somewhere is out of alignment.
I'm no MBTI technical expert, but I got reading about an INFP's need for exploration, to move out of our safe zones. It doesn't have to be with a huge leap (which I've done in the past - quitting my job, and then again, travelling for a month), but it merely has to be a step in the right direction. We like to feel things out before we decide whether to carry on or how we feel about them. 'INFP exploration' can come in different forms - I quickly found a couple of helpful articles on Google (like this, and this). I'm now more intrigued to learn more about those specific cognitive functions. What's certainly resonated, though, is this need to explore in different ways, and get out of our heads and idle routines.
Something I've become aware of is that I've grown out of living at home; this time was always going to come and, as it did back in 2015 when I left my job in 'the City', that feeling has only been growing. It's time for me to have my own space.
My initial plan is to pick up a handful more tutoring clients so I can comfortable rent somewhere nearby... perhaps for a 6-month term, and then decide whether to extend, or move somewhere else.
(Props to Cat, who I met IRL over Xmas and mentioned thinking about things in 6-month increments, which feels long enough but also not absolute. Me likey. Btw, you can catch with my interview with Cat over here. Btw, it was my first ever podcast interview, eek).
I've been thinking about this moving-out thing for a while, I just need to make it happen.
In a similar way, whilst we're talking about exploring, having never been in a long-term relationship, I know this is also going to take some scary, vulnerable, leap-of-faith exploring into the unknown. Slowly does it, though. Gentle leaps.
In my INFP exploration reading, I came across the recommendation to keeps some familiarity/routine when making these changes. Sound advice.
I need to remember though that I don't need to make major changes to satisfy my soul or my happiness... just small little leaps outside of my comfortable zone ('comfort zone' has become over-used, hasn't it?). Also - my idealism sometimes blinds me to the realisation that nothing is perfect. I need to not let my imagination run too wild in that regard.
2020 intention: more exploring, gently.


4. One of the biggest things I want but am afraid of…
is living on my own and being self-sufficient.
I'll be honest, in a creature who still feels safe with home comforts, and my time leaving home to live out at university 10 years ago (wow, a long time ago now) was not pleasant. That's a humbling admission to make as a 30-year-old man-boy.
A key requirement for this is for me to be able to cook for myself. Right now, my repertoire of meals is very limited. I'd like to expand or and be able to cook a handful of staple, tasty-yet-healthy meals.
I had the same intention last year (and possibly the one before that), but 2020 is going to be the year I finally arm myself with this crucial knowledge.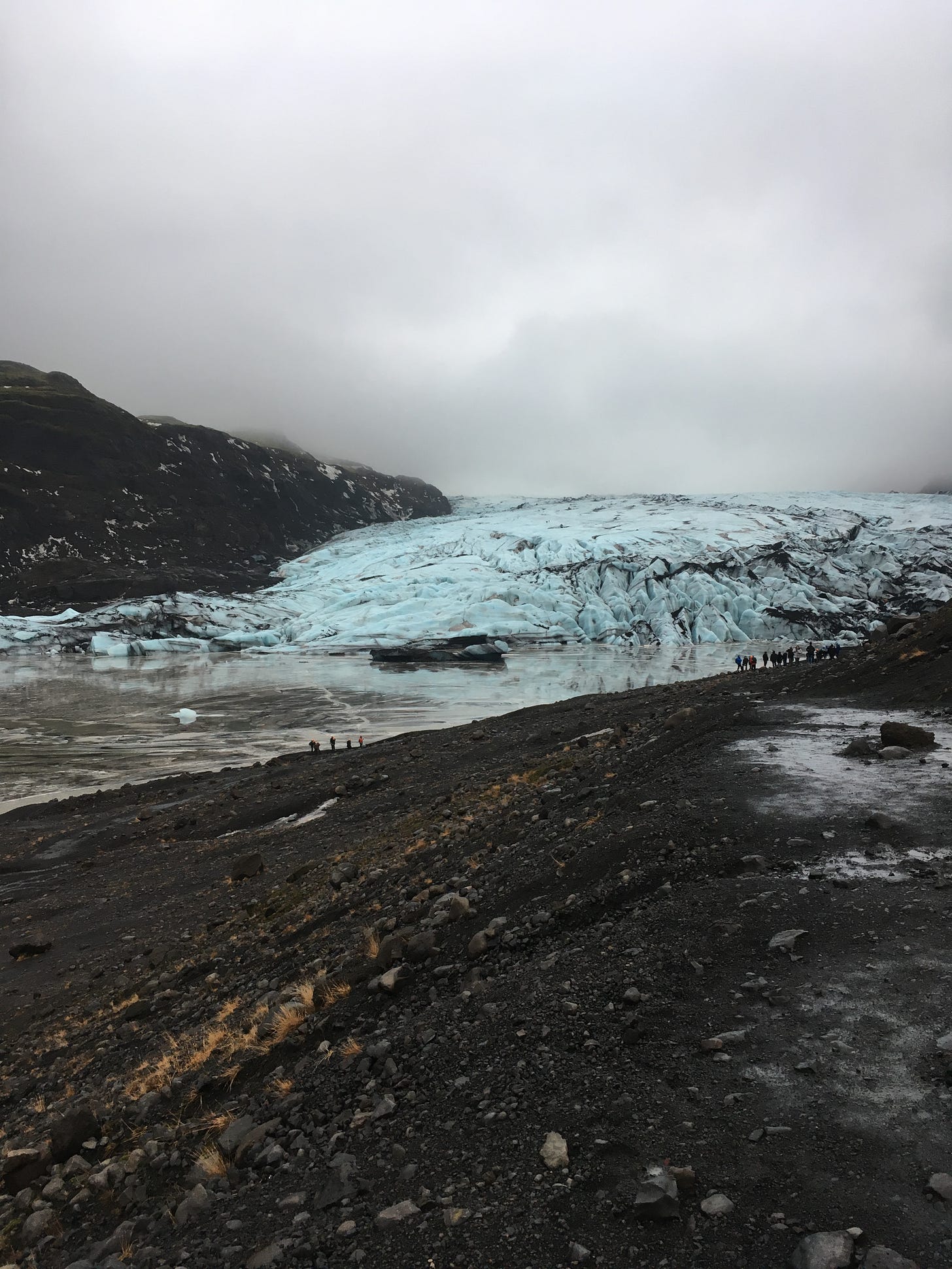 5. Reading fiction
It's been years since I read a fiction book. Literally. I tend to gorge on the latest non-fiction that captures my interest (e.g. afore-mentioned Cal Newport). I started reading one here in Iceland and I'm loving it. I discovered it through an Indie Author interview series I am carrying out; I was intrigued by the author's journey, and how this story came about. The synopsis also appealed and I was just pulled towards reading this.
If you're looking for something to read and would like to support a fellow INF and independent author, I'd really recommend this one. I'm not finished yet, but it's beautiful and I'm hooked. The author is Lynnda Pollio (INFP), and her book is Trusting the Currents. Find out more about her/the book over here.

6. Money
After umm-ing and aah-ing for way too long, I've finally come to a ballpark amount which includes living expenses, both basics and "extras" for fun/pleasure, with a surplus for tucking away in savings.
It's true - having such a Minimum Viable Income (MVI) can feel really empowering, and also give you a tangible figure which you can aim for; especially if you're transitioning from employed -> self-employed, or wanting to
Before, my money-goals were vague, uncertain and rather conducive to over-working, spinning the wheels blindly and having nothing to aim for. Not good.

2020 intention: continue to work towards building a consistent, MVI income each month.

6. Alone-time + journalling
My alone-time each day is crucial, and a really important form of self-care. We had some early starts in Iceland, and after time together on buses and seeing various natural wonders and pottering around Reykjavik, I really relished a couple of hours each afternoon (or evening - Saturday was an all-dayer). The hotel had this beautiful lounge/library area where I could relax, journal and read.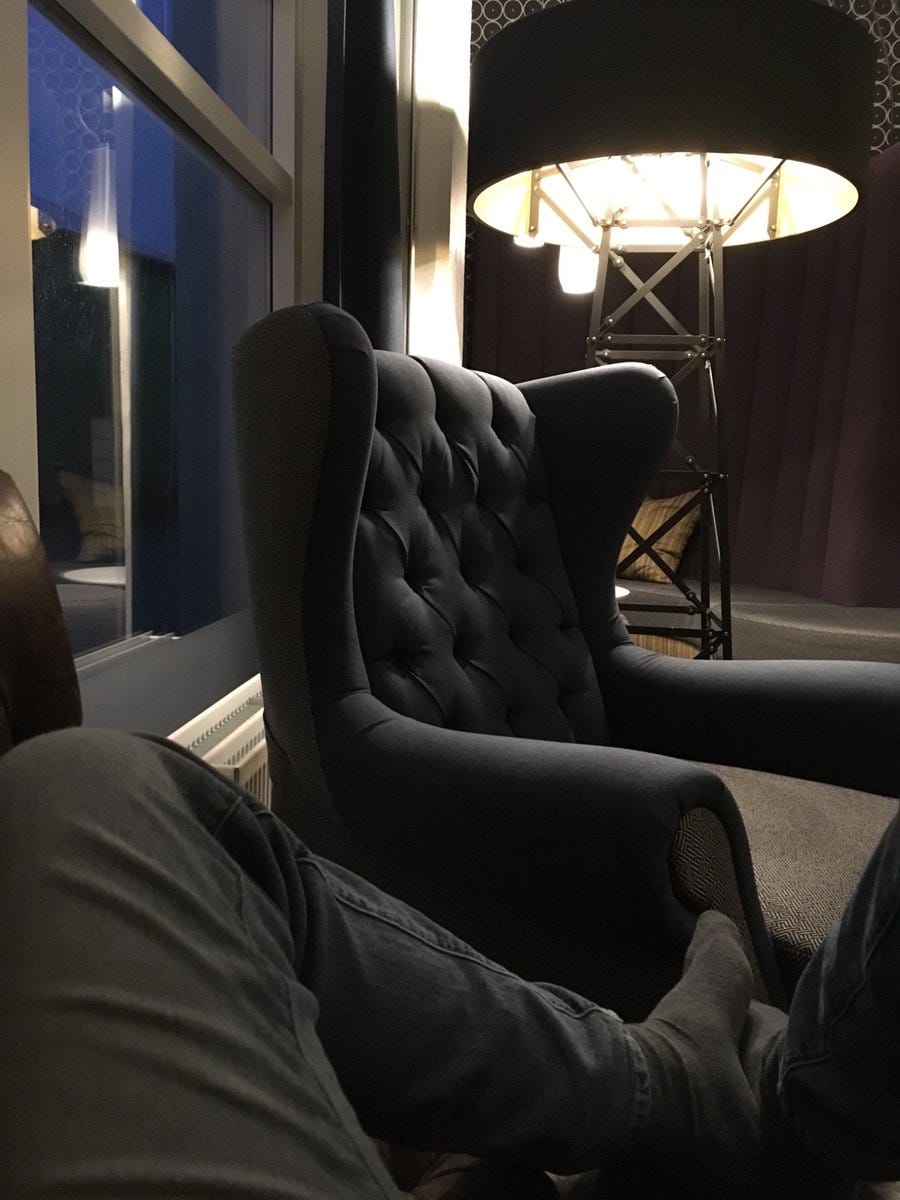 Speaking of which, I've recently started journaling again and am already finding how useful and enjoyable it is. My library trips were the perfect opportunity to scribble things down each day, and to process my thoughts, feelings and insights. Journalling does so much for me.

7. How I like to travel (slower)
One of the things I've noticed from years of these family trips (and others I've made with someone else/others) is that they always feel rushed, seeing this, then that, being carted around on tours. Tours are great - and convenient - but I'd love to spend some time travelling slower, and more intentionally.
Again, we're not talking moving across the world to New Zealand for a year (steady on, Jas), but perhaps something like the mini-trips I took alone this year, Slovenia and Tenerife.
Both had elements of routine and familiarity about them (I was exploring 'safely' without even realising it, which is interesting... with a friend joining me in Slovenia for half the week I was there, and my staying at a co-living space for the month I was in Tenerife).
I always enjoy some time spent away and breaking up my routinised life. It feels like I've made some really useful reflections and intentions in just a short amount of time.
PS. Inspired by this magical trip, and wanting to feel the Iceland vibes for longer, I started watching Vikings on Amazon Prime, on the plane home. 3 episodes in, I'm really enjoying it.
In short, Iceland was a magical place. Just 5 days provided some welcome adventure, inspiration and reflection-time. I'd love to go back.
---
My intentions
Here are the intentions for next year so far, some mentioned already and a couple of extras:
⭐️ More exploration, in small steps
⭐️ More intentional phone/laptop use (especially emails/social media)
⭐️ More time outside
⭐️ More journalling
⭐️ Continue to explore religion / my relationship with God
⭐️ More quality time with friends (4-5 I've identified in particular)
⭐️ Learning to cook healthy, tasty meals
⭐️ Reading fiction
⭐️ Buy up to 2 new books a month (max), & 1 book allowed for each I receive.
⭐️ Making trips, including an extended one (longer than two weeks)
⭐️ Enough, and consistent, sleep (8-9hrs)
⭐️ Drink more water
⭐️ More nudging myself into doing things (exploring!)… despite the self-doubt, perceived judgements, and not knowing how things'll turn out.
---
Now, over to you?
Wherever you are, and whatever you have planned, Happy New Year. I feel that 2020 is going to be my best decade yet, though I'll be probably saying that in 2030, too ;) My 20s have definitely been zig-zaggy and turbulent at times. What a 10 years it has been. A lot has changed for me, and it feels like there are more exciting changes and adventures to come as I now move through my 30s. (I turned 30 this Summer).

I'd encourage you to think about your own intentions if you haven't already. You don't have to focus so much on 'results', but instead think about how you'd like to feel, and then what you could do more of to feel that way.

See you on the other side 👋
by,

Jas
---
👤 Jas is an INFP, writer & coach. He curates INF Club, a place for INFP & INFJ creatives. Subscribe to the INF Club newsletter, or find out more about Jas.
Subscribe to INF Club
Subscribe to the newsletter and unlock access to member-only content.